BZ REPLAY: D.C. showrunner talks the future of east coast soap opera and the unflinching choices shaking up season five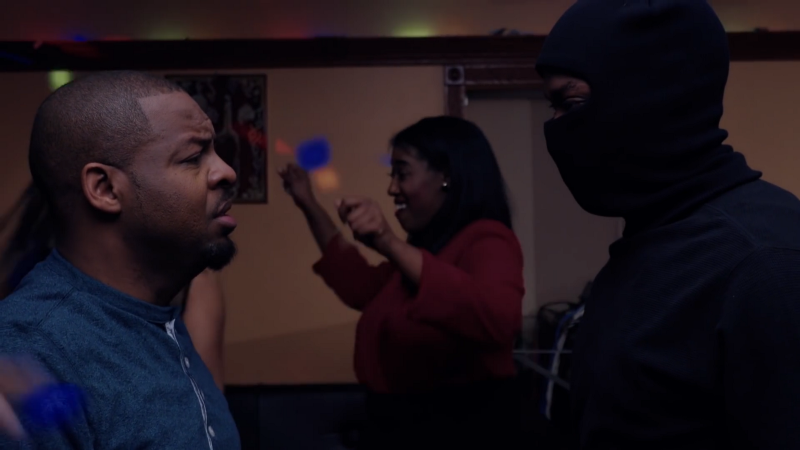 Shot on location, mixing famous soap stars and fresh faces, Anthony Anderson's Daytime Emmy-winning, predominantly African-American series is still breaking all the rules of soap opera.
(This interview appeared previously in a different format. With Anacostia's recent move to Amazon Prime–and the relaunch of Season 5 on that platform–and the continued relevance of the topics discussed, BZ/MP is revisiting it interview below.)
There is a moment early in season five of Anacostia, the Daytime Emmy®-nominated D.C.-set guilty pleasure, when Anthony Anderson is getting down. His character, Sean, is letting loose on the dance floor, surrounded by familiar faces in a vibrant sequence that tells us a lot about the capacity of both Anderson and Sean to live their moments with an unselfconscious joy. It's an unexpected start to the episode, given the dramatic events of the episode prior (more on that later), but it's an infectious one, and the audience quickly surrenders to the lights and music, embracing the moment with the same abandon Sean does. Until it comes to a sudden, uncomfortable stop.
It's not the music that stops. Indeed, the lights keep flashing, and the dancers groove on. Anderson's Sean stops cold, though, and it's our first hint that this episode—and Anderson's performance—will be unlike any we've seen in the years that came before.
Sean, we learn, has escaped into his own mind, temporarily hiding from a truth too painful to even speak. But he can't hide, not even within himself, and Anderson makes his terror plain as Sean finds himself frozen in place, the lights and music giving way to distortion, as a masked man moves toward his defenseless frame. That's the moment the now obvious dream sequence gives way to reality, as we catch up with Sean at the home of a friend, being questioned by the D.C. police. Within minutes, Sean is compelled to speak aloud the pain he's only begun to process. "I was raped!" he cries. "He raped me." And, just like that, Anderson lays down his marker for season five.
The scenes that follow, where Anderson and the supporting cast interpret and navigate the immediate aftermath of Sean's new reality, take us somewhere soap operas have traditionally been loath to go: the realities and aftermath of male rape. But, according to show creator and star Anderson, it's a topic that was long overdue for a different kind of exploration by the genre, and a story he was ready, as a writer and actor, to tell in the show's fifth season.
It's bold moves like these—and all the outrageously compelling drama Anderson so vividly brings to the screen—that led me to join the Anacostia team in 2016 as senior producer and creative consultant. And while that move was, in no small part, rooted in a desire to return to my early entertainment industry and artistic roots, it's no secret my professional stripes were earned as a journalist, writer, and communications strategist. It's no surprise that, from pretty much my first day on set, I've looked forward to sitting down with Anderson for a proper (if slightly subjective) interview. Join me as I speak with Anacostia's triple-threat (producer, writer, actor) showrunner about his vision for season five, including Sean's rape storyline, his role as an emergent African-American storyteller, and more.
Benjamin Bryant: Tell me about Anacostia, season five.
Anthony Anderson: Anacostia is the best it's ever been. No lie, no exaggeration. I've been proud of the work we've done every season, especially with the constraints and challenges we've had, but if you're doing it right, you're always getting better, and that's where we are with Season 5. The stories are bolder and more relevant this season—we're touching on gentrification here in DC and tackling male rape full-on with a storyline that is just infused with so much painful honesty, while still bringing the soapy drama our fans expect from us.
BB: I can tell you're excited. In what ways is making the show different in season five than when you taped the pilot all those years ago? How is that reflected onscreen?
AA: The actors are such a tight and comfortable troupe now, constantly raising the bar and making each other better, and the production quality is at a whole new level this season; you can see that right there on the screen. It allows us to focus on the end product rather than the process, which we all know by now, and the results are apparent. This is a season full of drama, mixing in classic soap staples with a little boundary pushing, and surprises.
I also have a greater sense of our place in the industry, what our fans need and expect from me, and of my responsibility as one of the few African-American showrunners in the industry on a show with an unusually diverse cast. I'm not just telling my stories, I'm telling our stories, and that has empowered my writing and challenged me to improve our product in ways I couldn't have imagined.
Our long-term fans are going to love what they see, and new fans—from those who've heard about us word of mouth to those who've followed Martha Byrne and Elizabeth Hubbard over from As the World Turns—are going to be rewarded for their investment in "our little show that did."
BB: Speaking of Martha and Liz, you're working with some soap royalty there!
AA: I know! We're heading into our second season with Liz and our third with Martha and they are part of the family now! The truth is those ladies are true soap royalty, veterans of a genre who've seen so much over the years, and they bring that experience with them to the Anacostia set. We've so much respect for them, but the beautiful thing is that they don't see themselves as royalty, they see themselves as artists, with a commitment to authenticity in storytelling and the survival of our shared soap opera medium. That makes all the difference.
As All My Children moved west, and with the cancelation of As the World Turns, Guiding Light, and One Life to Live, a large number of soap veterans, particularly those on the East Coast, seemed to simply vanish from our screens. When you hear and read audience reactions to seeing Martha and Liz's scenes on Anacostia, you can really feel how deeply fans have been mourning that loss.
BB: I can testify to that, myself. Though I wondered even then if the disappearance of network soap opera based on the East Coast would be an opportunity for emerging digital approaches. People want soap opera in their lives—that's apparent when you look at how increasingly serialized pop culture offerings have become, including sitcoms. Even when the Prospect Park online versions of All My Children and One Life to Live faltered, I still felt that the opportunity for digital soap opera to thrive—and to keep the proud tradition of East Coast based soap opera alive—was still there. Did you feel the same way?
AA: Absolutely! When network soap operas started leaving New York, I knew it was a beginning, not an end. You can't keep the truth down, and artists are powerful messengers for that truth. What network soaps leaving the east coast did was create a vacuum, an empty space for people with new visions and new approaches to fill in. And we were up for the challenge, all the way down here in D.C.! It has been a unique time for web creators to shine, and that's what we are proud to have done for these past five seasons.
I've been told more than once that my comprehensive use of local talent, local locations, and our proud use of emerging talent of color (in front of and behind the scenes) might have run in to some resistance within the more traditional models on the coasts.
BB: Has shooting in D.C. vs. New York posed any difficulties?
AA: I won't lie, shooting in DC has posed challenges that other web soaps haven't necessarily faced. The established soap talent (not just actors, but producers, writers, and crew, too), the experience, and the money are all concentrated around NY and LA. But I never considered taking the show there. The people and streets of Anacostia and the surrounding D.C. area have a vibe that's too real, authentic, and powerful to recreate. That authenticity is a big part of my vision. I won't compromise that.
So, our challenges became our strengths. The lack of established infrastructure for a soap meant I could turn to local talent, and non-traditional sources for inspiration and support. For example, we have such a powerful lead in Tamieka Chavis, who continues to do such incredible work, particularly on stage in our region, and she's just one of so many. Not one of our cast sounds a false note. All of our now-established fan favorites were found right here in D.C.
That's true behind the scenes, as well. Lora Lee, our hair and makeup mistress is ride or die for us, and we are for her. Lora knows this cast and this show inside and out, and she's a D.C. native. That shows in her attention to details an outsider wouldn't even think of. We have Jake Simpson, our visionary new cinematographer, Tommy Zamberlan, who's rebuilding our sound from the ground up. And we have you this season, Ben! Precisely because we're in D.C. That's just the latest in many examples of what I'm talking about. You've got a reputation as a DC as a power player in public relations and crisis management and with that comes a lot of authentic D.C.-specific experience I plan to mine further as we write more of the show out.
None of these folks would have been available to us in LA or NY, and our authenticity would suffer. I've been told more than once that my comprehensive use of local talent, local locations, and our proud use of emerging talent of color (in front of and behind the scenes) might have run in to some resistance within the more traditional models on the coasts.
BB: So, those so-called limitations became your advantages in pretty short order.
AA: I think it's why we've gotten the response we have. From an ever growing and fiercely loyal fan base, to the fantastic creative partnerships we've built with vets like Martha and Liz, to the recognition we've received from multiple festivals, the Indie Series awards, and the Daytime Emmys, we are more secure in our path than ever. It was a risk, sure, to build the show here in DC without the traditional support structures or headline names, but I think the fans and the artistic community respond to artists that take risks. I know ours have.
BB: Let's change direction for a second, and talk about a major storyline we've already seen starting to play out this season: the rape of your character, Sean. I have to admit that the early scenes and treatment of the topic took me by surprise. There are so many third rails being touched on here: male rape, homosexuality in the African-American community (Sean is proudly out, his rapist is on the down-low), the realistic aftermath of such an assault, and the double standards often faced by male rape victims in reporting and recovering from their assault. It's heavy stuff—all seamlessly woven into a larger, more traditionally soapy story. What were you thinking when you set out to put this story together?
AA: I knew from the minute I started outlining Sean's rape that we couldn't half-step with this story. That is a responsibility I feel as both writer and actor. From the beginning, I knew we weren't going to sensationalize rape and I knew we were going to see it through, storywise. As a writer and an actor, I felt strongly that Sean's story couldn't begin and end with the assault itself. The audience had to be with him as he deals with stigma and skepticism from law enforcement, worries about his HIV status in the wake of the rape, grapples with PTSD, and puts his life back together, all while maintaining his place as a pivotal part of the soapy drama that makes Anacostia such a powerful and entertaining show.
It's a fine line for both me as a writer and as an actor, but I'm not shying away from it. Both writing the words and acting the scenes is a special challenge and an HONOR because I know I'm helping to tell a story that's been told insensitively, when its been told at all. The early feedback has already been so strong and it humbles me, and I want the audience to know that they're not going to want to miss an episode this season, because Sean's journey is going to be one of the emotional highlights of the season.
We're leveraging the freedom we have from traditional network and advertiser-driven models to take a slightly slower, more nuanced, and certainly grittier look at the topic [of male rape]. Not the assault itself…but Sean's long aftermath and recovery.
BB: Can I give a shout out to your performance and those scenes in general? While we haven't seen this storyline much in the soap genre before, I feel safe in saying that there's a raw and painful realism in the way you approached the post-rape scenes as a writer, director, and actor that I've not quite seen on soaps before, at least not in this context. They really affected me.
AA: It's not a storyline we've seen that much before, and I think much of that is because rape has had very specific purposes within our genre and is used in particular ways, sometimes controversially. But our story owes a lot to the stories that have come before us—including Elizabeth Webber's rape on General Hospital, Marty Saybrooke's rape on One Life to Live, and recently, young Ceara's rape on Days of Our Lives; and, of course, Michael's prison rape on General Hospital—that pushed the envelope a bit, moving audiences from once traditional "shocking twist" and "rapemance" stories into deeper exploration of the violence, pain, and aftermath of sexual assault. There has been such strong work and vision from writers like Michele Val Jean, Megan McTavish, Chuck Pratt, Ron Carlivati, and others. Big shoes to fill, but also a marker set down for me as a writer in terms of where I had to go with this next iteration of this type of story.
A lot of credit goes to the actors, as well, who helped craft these and other powerful stories of sexual assault and abuse onscreen that educated and enlightened audiences. Genie Francis, Erika Slezak, Rebecca Herbst, Susan Haskell, Chad Duell, Judi Evans, Mary Beth Evans, Marci Walker, Sydney Penny, Eden Reigel, Natalia Livingston, Alicia Coppola, Melissa Reeves, Lauralee Bell, Katherine Kelly Lang, and so many more. Really, it's too many to list, but those who've come before have all been positive influences on the writing and performance of this important story, especially as we develop our own take and break some decidedly new ground with our version.
Also, as the online version of All My Children was able to do with their edgier human trafficking storyline with Sal Stowers, we're leveraging the freedom we have from being traditional network and advertiser-driven models to take a slightly slower, more nuanced, and certainly more truthful look at the topic—not the assault itself (we had no plans to exploit tragedy in such a way, nor to trigger victims of sexual assault), but Sean's long aftermath and recovery. I can't promise we'll get it 100% right, but we are definitely striving to and I know it's already resonating with the audience.
BB: I've seen the mail we're getting, and I couldn't agree more. It's powerful stuff.
AA: Thank you.
BB: With the success you've had incorporating Martha and Liz onto the Anacostia canvas, both in terms of new audience and award recognition (Martha Byrne won a 2015 Daytime Emmy for her performance on Anacostia and Elizabeth Hubbard was nominated in 2016), any chance we'll be seeing more familiar soap faces on the streets of Washington D.C.? Is expanding the number of soap opera veterans something you're excited about or hesitant to do?
AA: I talk a lot about the authenticity of the vision I had for Anacostia and how passionately I care about preserving it. There's a truth on these streets and it's the truth of where I came from, both as a product of Southeast DC and a longtime soap fan. And to build and maintain that authenticity, we had to honor first things first. That started with building our series' identity, exploring our location and our core set of characters in an honest way that firmly established who they were and how they related to each other. Not having the marquee names those first few seasons helped us do that because the audience only knew those actors as those characters. It helped build some powerful bonds between the art and the fans. Once that was established, we partnered with Martha Byrne and now Elizabeth Hubbard to open up the canvas, establishing links between these established character dynamics and a wider world. It's been great and the audience and industry have really, really responded. But the goal has always been to serve the stories of this place: Anacostia.
So, the good news is yes, we are absolutely now ready to build out our canvas even more. The reputation we've built means we have interest from soap vets like never before, and, internally, we have ideas like never before! It's always going to come down to the art and the deal: does a particular person or character serve the story and can we make things like personal and shooting schedules work (the one and only downside to shooting outside the major TV hubs are the additional transportation and scheduling requirements), but I can say to fans that, yes, they will see more familiar soap vets popping up in story on Anacostia and they are going to love what we have in mind for them!
BB: Anyone you haven't spoken with yet that you'd love to have on the show?
AA: Man, that list would take all day. But I will say if you ever talk to Debbi Morgan, give her my number, Benjamin Bryant! Oh, the story I would write for her.

Writer | Broadcaster | Artist
Award-winning journalist/broadcaster | Global communications strategist advisor | International affairs junkie | TV producer (sometime actor) | Artist and Photographer | Germany-born, Army strong, TEXAN